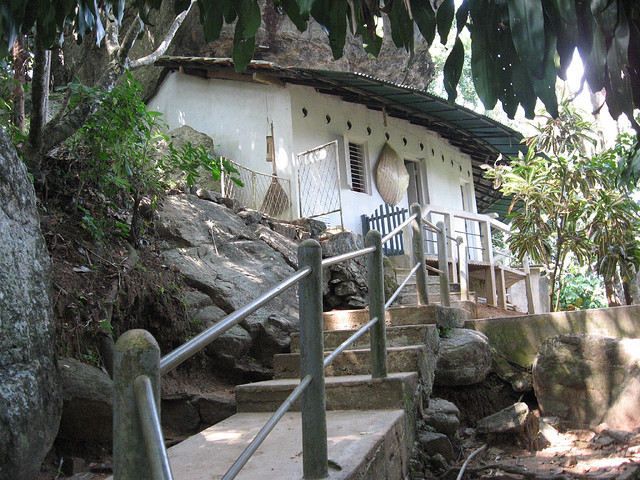 Many of you already know about my deep gratitude towards Ven. Ñāṇananda who I consider to be one of the greatest living Dhamma and Meditation masters. If anything you ever read on this blog might have helped you, all that potential puñña goes straight to this exceptional monk whose singular patience, learning, insight, wisdom, humility and penetration of the Dhamma I owe so much.
Now the Ven. Bhikkhu Yogananda (whom I have never heard of before but who considered himself a "Nyanavirist" – which actually is not a bad foundation bringing you quite close to Ven Ñāṇananda's vicinity of understading) has posted a very detailed report on his meeting with Ven. Ñāṇananda, a meeting which occurred last year. He did an excellent job of summarizing that experience ('escaping' Pa Auks Na Uyana monastery 🙂 ) and foremost of all, the most interesting Dhamma discussion wich took place between the two.
There is lots of interesting points raised. Especially for those of you who are already acquainted with Ven. Ñāṇananda's writings (such as "Magic of the Mind", "Concept and Reality"…"Nibbana – the Mind Stilled") this post is a great read, because Ven. Yogananda has the Ven. Bhikkhu Ñāṇananda clarify some rather tricky Dhamma questions (which is his specialty anyways). He also did a great job of introducing the closest student Ven. Nyanarama probably ever had to a wider audience in his short but very honest and close observation of his meeting with the "heretic sage". So here is the link for those of you interested:
http://nidahas.com/2010/08/nanananda-heretic-sage-1/
On a side note: I found it quite fascinating to hear that Ven. Ñāṇananda (again an exception in this matter) is outspoken about a Western import to Sri Lanka with regard to the interpretation of Nibbana/Nirvana. He explains what is wrong with the notion of perceiving Nirvana as "a flame unbound" – a concept/mistranslation which leads towards an existentialist interpretation of the Dhamma and a notion which, when confronted with it 30 years ago in Sri Lanka itself, resulted in the creation of his masterpiece of contemporary Buddhist insight literature: The 33 Nibbana Sermons. If you haven't read anything from Ven. Ñāṇananda yet, these are a great way to start.
(Visited 1,476 times, 1 visits today)