Okay, the following anthology seemed long overdue – I found that especially in a Western Christian environment many Buddhists do not know what the Buddha (or the early Buddhist literature, depending on the grade of your trust) had to say on topics like:
a.) the belief/view of an eternal Creator God
b.) how this belief comes into being
c.) which parts of this belief are dogma and which real
d.) what the path to God is really all about
e.) some guidelines from the Buddha for Christians
I found all those thoughts are neatly summarized in the following great book by Dennis Samuel called "Why Buddha explained Christianity better than Jesus". Yes, quite the appropriate title – once you had the chance looking at the the Buddhist sources.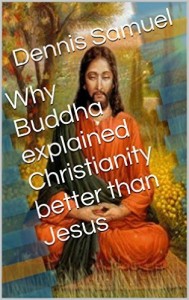 If you want to study Samuel's quotes on your own and in more detail, there is also a fabulous link/references sections at the end of his book. If you know similar statements made by the Buddha, just send me an e-mail with a reference to the Pitaka and I'll list them here. Overall, i always found Buddha's explanation of the Christian Religion to be the most comprehensive and understandable…One might say, the most consistent Christian theology is Buddhist. LOL.
This must all sound very strange to a Christian and it's a pity, really, that most of those who could so very much benefit from this information are probably religiously stubborn enough to not touch any book that discusses Buddhist philosophy. Be that as it may, for those truth-seeking adventurers out there, this short read is more than recommended!
After all, maybe this is just another case of the ancient saying:
anno es' ev'assa, avuso, gatakassa maggo nama
"For him, who has gone the way, brother, this path looks different"
(Visited 1,465 times, 1 visits today)